Creating an account for a rider under 18, not previously registered with EE
Article ID: 24 | Last Updated: Wed, Dec 14, 2016 at 1:18 AM
For riders under 18 their account needs to be linked to a parent account; it is not necessary for the parent to ride.
Increasingly events are not accepting entries made directly from the account of a rider under 18 years.  This decision relates to Health and Safety and insurance requirements.
Once the parent (or another responsible adult over 18) has set up their account they can then add riders under 18 to it.
Sign in and click MY ACCOUNT - top right but only visible once you have signed in.

Scroll down until you see REGISTER RIDERS UNDER 18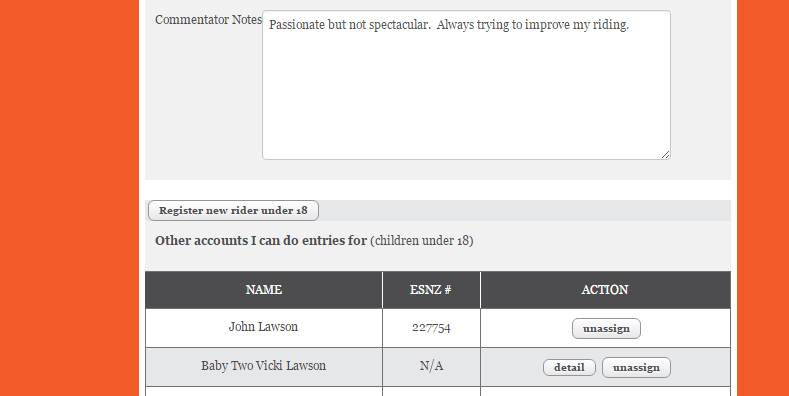 Click Register new rider under 18 and you will get a pop up with a question to answer.  Select YES as you want to be able to enter the rider from your account.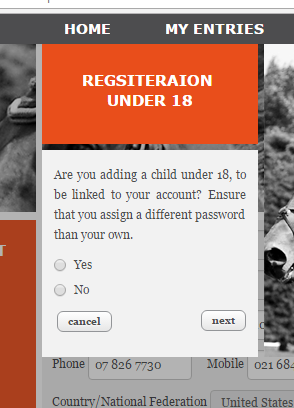 Click NEXT and you will get the ESNZ Registration question.  It is asking 'Is the Child registered with ESNZ'? (the wording is confusing)
Select yes or no as appropriate and click NEXT
If you selected NO, you will get a pop up form to fill in
**It is very important that you use the SAME email address as your own but a DIFFERENT password.**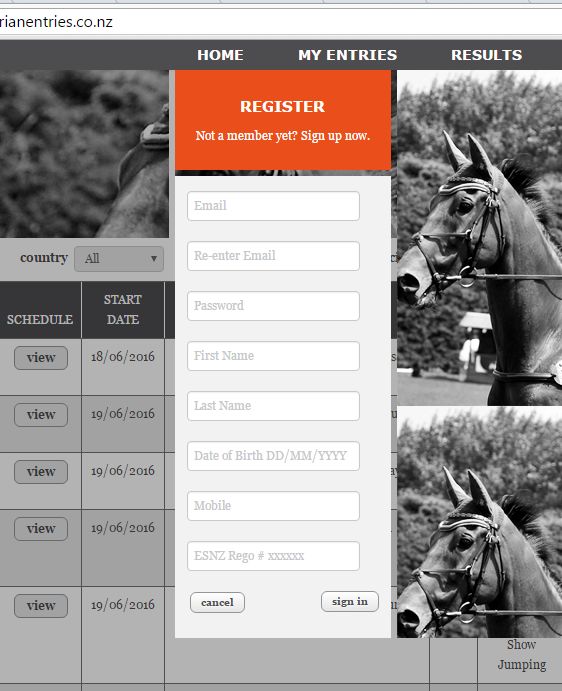 Once you have completed the details click SIGN IN and you will get a message Thanking you for the registration.
Click CANCEL and it will take you to your MY ACCOUNT page and you will see the rider listed there.
When you sign in to do entries using your password you will be able see the rider and do the entries under their name.
If you selected YES you will then get another pop up to confirm the child is ESNZ registration status
If you select YES and click NEXT you will get a popup in which you need to put the child's surname or ESNZ number and then click NEXT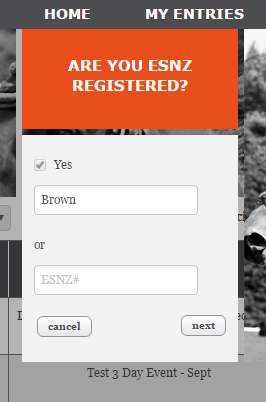 You will now get a list of ESNZ riders with that surname.
Find the child's name and click on it so it goes orange and click NEXT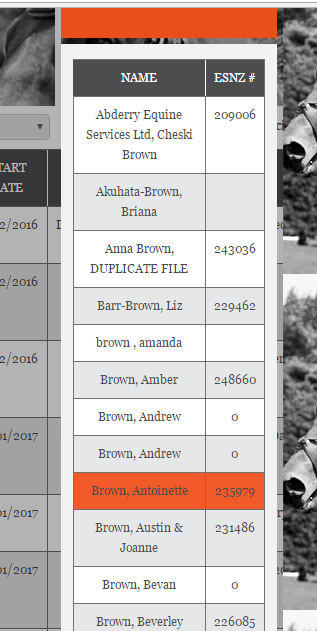 You will then get the form with the ESNZ data filled in.  You can amend all but the name and ESNZ number.  It is at this point that you select a password.  Please ensure the password is different from the one you use.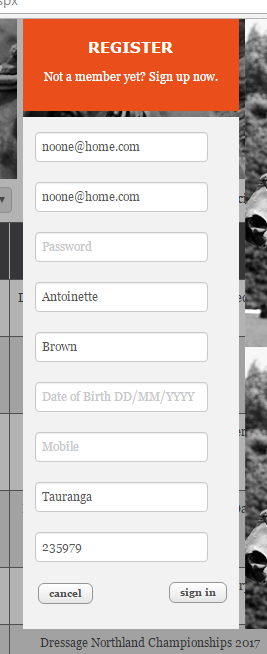 Once you have completed the form click SIGN IN.  The form will reappear as a blank with the message 'Thank you for your registration'  
Click CANCEL